SIMPLICITY +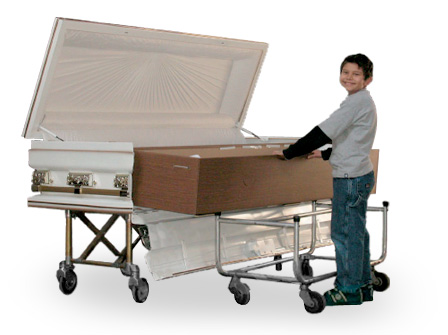 We are proud to feature Simplicity +
Our own patented Simplicity+ is A Metal Rental Casket (US Patent # 7302743). It features a unique opening front and a steel roller mechanism. The cremation container can be removed with ease by one person.

Simplicity+ works well with all types of cremation containers. Our unique design balances the Simplicity+ while unloading the cremation container.

Simplicity + is an Economical Choice and features :
A Durable Structure


An Innovative Design


An Elegant Exterior


A Secure Front Locking System

The Simplicity + is easy to use.
It features a secure front locking system, gas shocks to hold the lid open, interior edge protection, and so much more...

This is the best investment for your Cremation Service!
No funeral Home should be without one.

Contact us for any inquiry about Simplicity +.
To learn more about this product, Google eastern casket or You Tube metal rental casket to see how easy it is to remove the cremation container and how structurally strong this metal rental is.

Simplicity + brochure ( 2009 )